Mobile Devices: The New Frontier for IT
IDG Survey notes a guided support model increases IT effectiveness
Employees are using their own personal devices (or similar corporate devices) at work more frequently, and they expect the same level of mobile support in the corporate world as they receive in the consumer one. Expectations are growing among employees, and IT organizations need to provide robust tech support for both corporate-owned and personal mobile devices.
Research from IDG provides insight on where IT organizations currently stand in providing mobile support. With mobile devices so deeply ingrained in the everyday activity of so many employees, the "old-school" break-fix model is no longer adequate. Instead, the new model of guided support enables companies to deliver a fuller suite of support services, with a better experience for both users and support technicians.
Download the IDG whitepaper to learn:
How your company benefits from mobile device support
Challenges faced by IT teams supporting mobile devices
How to implement a guided support model for mobile employees
∨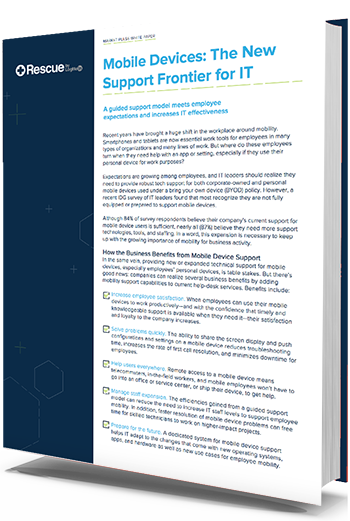 Deliver better support to mobile employees

Oops, we experienced technical problems, please try again.